Find paradise in Minnesota by moving to the North Shore or owning a vacation property.
Looking to buy property on Lake Superior?
In addition to being a local realtor, Semira also specializes in North Shore properties. She loves it up there and knows the area well. The North Shore has been a favorite of hers since she was a kid. It's her home away from home. If you're looking to relocate up there or purchase property on Lake Superior, Semira is your agent. If you want to build on Lake Superior or buy an existing home, her resources and connections will make your dreams a reality.
When it comes to being knowledgeable on the local resources and real estate market on the North Shore, MN, Semira Mundt is an expert. Semira, herself, owns property on the North Shore and for this reason is very well versed in any and all of the questions you may have when looking into purchasing a vacation home there or relocating.
Semira's Favorite North Shore Places:
Build or Buy - Semira can do both!
Semira is currently building a log cabin on Lake Superior. If you are looking for the right contractor, vendor, or location – she can help.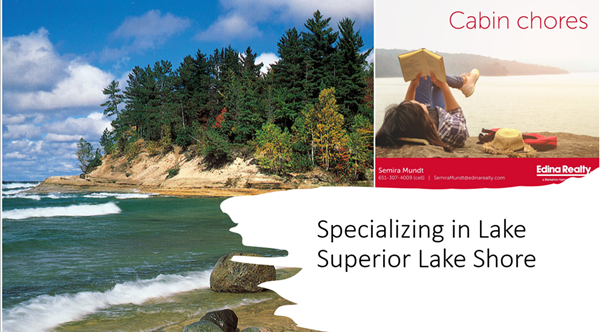 Sugar Loaf Nature Center - Member
What brings Semira joy on the North Shore is preserving its beauty. As a member of the Sugar Loaf Nature Center, it is their mission to inspire the preservation and restoration to the North Shore's unique environment. Click here to learn more!
North Shore Hiking Trails
The North Shore has always been Semira's second home. All her life she has been coming here for fun, whether that is to hike or kayak. Check out some of the most magnificent hiking trails in the area. Click here to learn more!